Gayle Dykes of GGS PETCARE is fully licenced by cheshire west and cheshire council and is rated 5 *****  for daycare and boarding for 6 dogs including resident dog
ggs petcare will aim to stay open for as long as possible at this time
It would be appreciated if you are showing any signs of contracting the virus preventative measures can be made to reduce spread of disease
Thanks
Gayle
LICENCE NUMBER 18/AB/069
INSURANCE WITH PETPLAN SANCTUARY
Reassurance for you – when you need us most!
GGS Pet Care offers  "total peace of mind" Pet Sitting for dogs, Dog Walking and Small Animal Visit services at affordable prices. Fully insured, we are family run, animal loving and independent whilst at the same time highly professional – and personal.
Whether you are away at work, on holiday, getting married, in hospital etc., we provide the quality of care for your dog or beloved small pets that they expect and receive from you. That could mean dog sitting in your home, dog-walking, feeding your small pets, letting them out (or in!), visiting (and cuddling!) them or simply keeping them company – whilst at the same time keeping your home secure in your absence
We do this on either a one-off basis or on a regular basis plus we can work part time or full time (such as for the duration of your much needed holiday). The bottom line is that our service is there to help you and your pets when you need us most!
Much more info about what care and attention we can provide to your pets can be found on our Pet Services Page.
Reassurance for your Pet
Familiarity, exercise and the comfort of being cared for at home is so important to the wellbeing of many pets when their owners are away for a while.
We know that YOU know what's best for the welfare of your pet – it's our job to carry on providing that for them when you are away, as if they are our own!
Where do we Care?
We are based in Alvanley, a beautiful, leafy village in Cheshire and our pet care services extend to roughly 3 – 4miles from Alvanley – there is a map with more information on our Contact Page.
Who put the GGS into Pet Care?!
Hello – my name is Gayle, the founder and owner of GGS Pet Care. The company began in April 2008 when I cared mainly for horses. I had my British Horse Society Stage 1 and 2 qualifications in Stable Management and I founded Gayle's Grooming Services; hence the name of "GGS" which of course can be pronounced as "gee gees" as well!
As a dog lover, I then gained my "Canine Psychology & Behaviour" qualification together with my "Canine Health and Safety (including zoonotic diseases)" qualification. More recently I sat my Professional Dog Boarding Diploma Qualification and I passed – with distinction Also I gained Level 3 foundation canine psychology and behaviour (Merit) and currently completing Level 5 Applied canine behaviour
So having started the Pet Care business caring for horses when their owners were away, GGS tends work less with horses these days – we offer mucking-out services. We branched out into caring for smaller pets – everything from dogs and cats to rabbits and birds – and it tends to be these animals that my clients need me for at present. If you want to hear what they think of our services, just hop over to the Pet Care Testimonials page and find out!
Partners in Fun!
As you can see, I have a lovely-natured German Shepherd bitch called Sadie – we have been together since she was 3 months old and she is a major part of my life.(Sadly passed November 2019)
This, along with my experience and qualifications, is a huge asset in my line of work and puts me in a unique position to offer the service of care for a clients' pet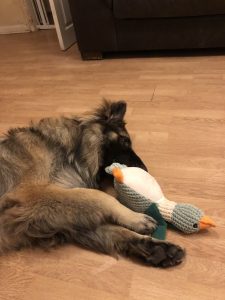 Merlin  is my new pup, taking over from Sadie, Got big paws to fill!
Want to know more?
Please take a further look around our website for more info – our Pet Gallery is full of photos that will melt the heart of any animal lover.
Prices for all our services can be found on our Prices Page and if you have any questions at all or would like us to provide a quote for a specific service, then all our details can be found on our Contact Page.
Gayle